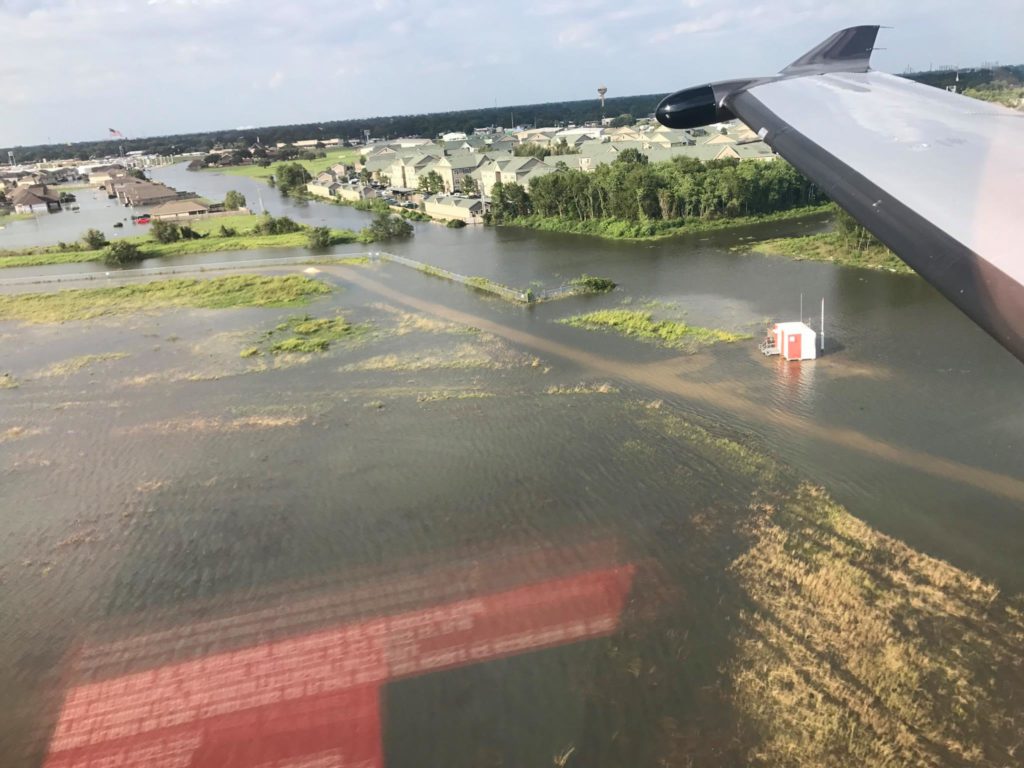 It's been nearly one year since Hurricane Harvey made landfall in Texas, kicking off one of the worst hurricane seasons in history. While we hope to never repeat the record-breaking hurricane season of 2017, it is important that we take a moment to reflect on our lessons learned, as well as review some of our industry best practices in preparation for another potential response.
When disaster strikes, the aviation community is always eager to answer the call for help. There has been a steady increase in the number of pilots willing to donate disaster relief flights over the past decade — and for this we are immensely grateful.
We have learned during our relief efforts for multiple natural disasters (such as the Haitian Earthquake, Hurricane Sandy, Hurricane Harvey, etc.) that seamless communication and coordination with volunteers, government agencies and response teams is essential to effectively helping communities in need. As such, our PALS Sky Hope Disaster Relief Program is committed to focusing on a central command of information, thus effectively coordinating the influx of airplanes to the affected area, and allowing our volunteer pilots to maximize resources and quickly offer valuable assistance.
The flight coordination team at PALS has taken the lessons we've learned from multiple disaster response efforts, and created a PALS Sky Hope Disaster Relief: Flying Best Practices Guide. We encourage the aviation community to review these insights and tips, so together we can make an even greater difference in the lives of those in need.
PALS Sky Hope Disaster Relief: Flying Best Practices Guide:
COORDINATE
• Coordinate all flights with a disaster relief flight charity: The single most important thing you can do when volunteering to fly for disaster relief is to make sure you are working with an experienced charity flight program. Our team at PALS Sky Hope works around the clock in the days following a disaster to efficiently and effectively utilize our donated resources.
PREPARE
• Prepare for uncertain ground circumstances: Fluid— it's the best word to describe disasterareas in the immediate hours and days following the event. Disaster areas are constantly changing. The status of TFR's, airports and fuel changes by the hour. Our flight coordination team stays in constant contact with our representatives on the ground, but sometimes information that is just a few hours' old is outdated. You may arrive at an airport under military control; you may have to deal with security issues on the ground; there may be evacuees at the airport asking for transportation—be prepared for the unexpected.
• Prepare for fuel shortages: Frequently throughout disaster areas, fuel supplies have often not been replenished or are in short supply. Furthermore, if fuel is available, there may be long waits to receive it or cash may be required to pay. Plan ahead and confirm alternate fuel sources or scenarios before beginning a mission.
• Prepare for potential mechanical problems: Resources to help fix flat tires or fix aircraft discrepancies will likely not be available. Consider adding a few spare tires and other items that may be needed for any common mechanical issues to your aircraft. You do not want to get stuck in the disaster area due to an aircraft mechanical.
OPERATE

Operate resourcefully with two pilots: Experience is very important during disaster, and the abnormal conditions during relief efforts call for experienced pilots who are instrument rated and current. The details surrounding a disaster relief flight can sometimes be challenging. The airspace is often populated with relief flights, military operations, search and rescue flights and a multitude of other aircraft. Having an extra set of eyes and ears in the cockpit can help reduce the workload and reduce the risk of having any traffic issues.
Stay on top of NOTAMS and TFR's: Check them regularly, and again prior to departure, for every flight. They can be enforced at any time.
Utilize traffic avoidance systems: Radar and flight following may or may not be available in the disaster area. Flight operations will likely be in very high volume, including private and government aircraft, as well as helicopters.
REFLECT
Recognize the end of a mission and identify lessons learned: One of the single most important things to occur after a disaster, is for regular commerce to resume. As government officials being to indicate that a region has recovered from an event, an abundance of donated supplies or donated flights can cause disruptions to normal local commerce. Take the lead from those on the ground, and recognize the end of the mission and allow the fragile economy to begin to grow.
Have any lessons learned that you'd like to share with us? Send us an email at skyhope@palservices.org.
Robin Eissler is on the Board of Directors at Patient AirLift Services (PALS). She is an active advocate for the business aviation industry and is the founder of the PALS Sky Hope Disaster Relief Program, a program of PALS. Her successful coordination efforts during the business aviation relief efforts after Hurricane Katrina in 2005, the earthquake in Haiti in 2010 and Hurricanes Harvey, Maria and Irma in 2017 have established her as the industry's top expert on aviation disaster relief operations.
Robin is a Sales Director at jetAVIVA and has more than twenty years experience in aircraft sales and business operations.
She was formerly the President and CEO of Jet Quest, Inc and under her leadership the company tripled in size in three years. Prior to jetAVIVA's acquisition of Jet Quest, she was recognized by the Austin Business Journal as one of Austin's Top 50 CEOs. Her expertise covers a broad range of aircraft types and she is experienced in a variety of aircraft management, tax and operational issues. She has personally completed hundreds of millions of dollars in aircraft transactions and her main focus is to help high net worth clients achieve their aviation goals. Her client list includes celebrities, Forbes 100 Billionaires and many small business owners.
In 2018 she was the first woman ever awarded the Texas Aviator of the Year by the TXDoT Aviation Division. She was the co-chair of the 2012 and 2013 NBAA Leadership Conferences and is also a Certified Aviation Manager (CAM) and has previously held a position on the NBAA CAM Governing Board.
Although no longer an active pilot, Robin holds a Private Pilot license. She is a graduate of Florida Atlantic University where she studied Business Management and Entrepreneurship. Robin and her husband, Trevor, have three children and live in Georgetown, Texas.